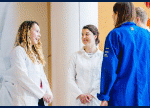 An exciting opportunity to join the University of California, San Francisco's growing Orthotic and Prosthetic Centers. We are looking for highly qualified pediatric professionals who's clinical, teaching, and research experience has prepared them for a challenging and exciting career at a top-10 university hospital. We are seeking leaders of industry who provide the highest quality of service and strive to improve the state of the science at UCSF and beyond.
The mission of the Orthotic and Prosthetic Centers at UCSF is to provide the finest care, service, innovative design, and research in the field of orthotics and prosthetics, by uniting a team of expert professionals dedicated to improving the lives of patients worldwide. All members of the UCSF O&P team are leaders in their profession and are devoted to helping patients rediscover independence and achieve their desired level of function. Unsurpassed professionalism, integrity, and clinical experience are the benchmarks of our practice.
Incumbent will work as a full-time clinician in the Orthotic and Prosthetic Centers in a large medical university setting which includes In-Patient and Out-Patient care of patients with a wide variety of medical diagnoses. Candidate will be responsible for clinical evaluations, implementation of a vast assortment of orthotic and/or prosthetic treatment modalities, and technical fabrication of orthotic and /or prosthetic devices. Applicant will be required to create and present informative educational presentations to allied health providers. Candidate will serve as a resident instructor, which includes relaying techniques and clinical knowledge in a clear and concise manner. Candidate will have the opportunity to engage in clinical research and participate with O&P committees focused on education, technology and innovation, research, best practices, quality improvement, outreach, and diversity.
o 1)
Master's degree
in Prosthetics and Orthotics (MSPO/MSOP) (if candidate graduated from an NCOPE accredited O&P Curriculum
after
2012)
or
o 2)
Bachelor's degree
in Prosthetics and Orthotics (BSPO) or a post- Bachelor Certificate of Completion (if candidate graduated from an NCOPE accredited O&P Curriculum
prior to
2012).
• ABC certification in Orthotics or Orthotics & Prosthetics, in good standing.
• Prior experience providing direct patient care in an orthotic and prosthetic facility, with demonstrated skills, knowledge and abilities essential to the successful performance of duties in a patient care setting.
• Excellent communication and team-building / interpersonal skills.
Preferred qualifications:
• Knowledge of disease processes and associated orthotic / prosthetic interventions.
• Familiarity with current treatment modalities, materials, and fabrication techniques.
• Experience with scoliosis and cranial remolding
This is a unique opportunity to be a part of a rapidly expanding, multi-center practice. We look forward to hearing from you.
Medical benefits and a generous pension plan are included. Salary will be commensurate to applicant's qualifications and experience.
UCSF seeks candidates whose experience, teaching, research, or community service has prepared them to contribute to our commitment to diversity and excellence. The University of California is an Equal Opportunity/Affirmative Action Employer. All qualified applicants will receive consideration for employment without regard to race, color, religion, sex, sexual orientation, gender identity, national origin, disability, age, or protected veteran status.