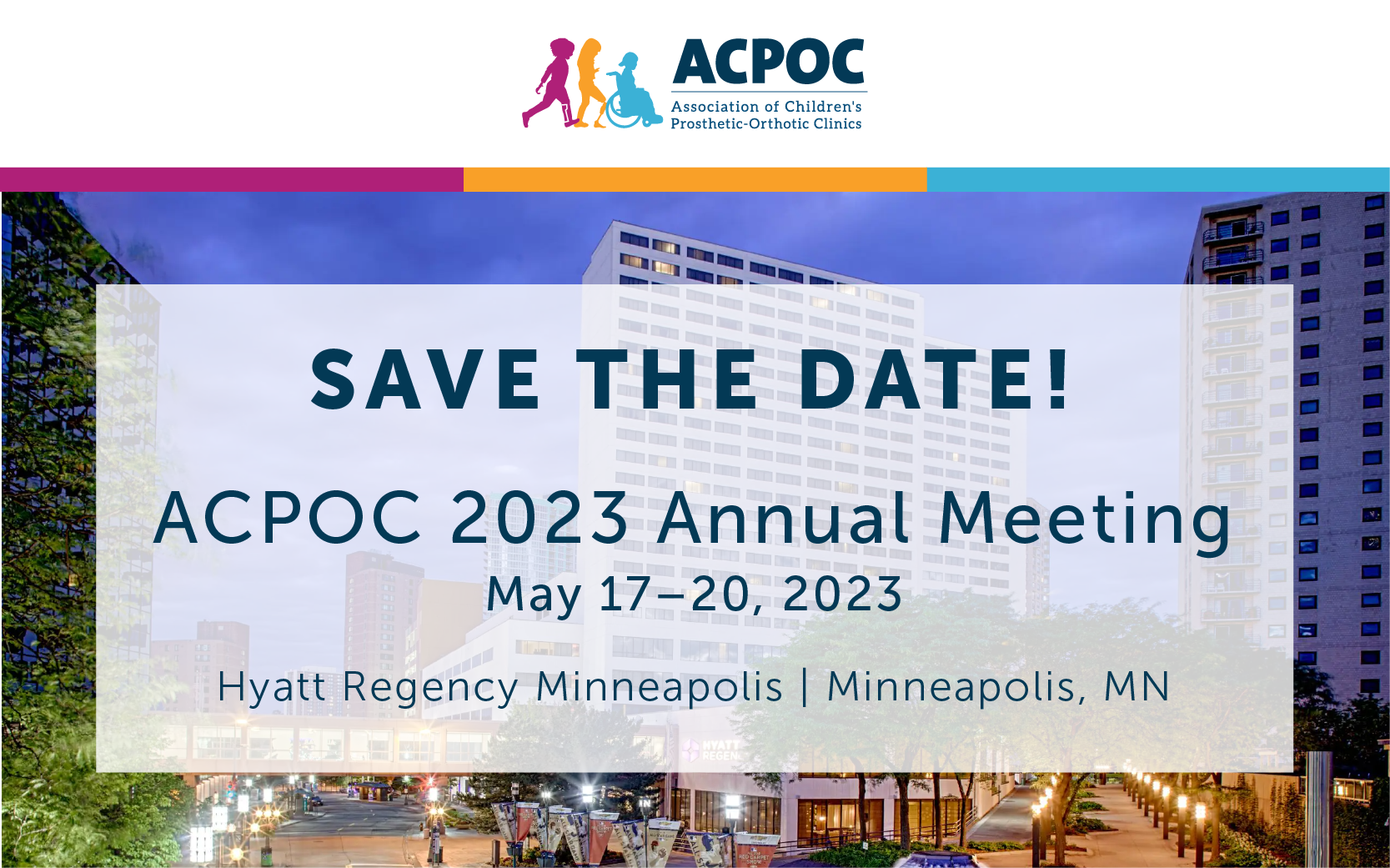 Stay tuned for more details about our 2023 Annual Meeting!
The Association of Children's Prosthetic-Orthotic Clinics (ACPOC) invites professionals interested in pediatric musculoskeletal disorders, neurological impairment, surgical and not surgical restoration, prosthetic and orthotic fittings, therapeutic treatment, and outcomes to begin planning for their participation in ACPOC's 2023 Annual Meeting. The meeting is scheduled for May 18-20, 2023 in Minneapolis, MN.  ACPOC is in the process of considering a hybrid model for the annual meeting, in person and virtual. Please consider attending in person if you are submitting an abstract to present. No definitive decision has been made at this time. 
We are interested in a multitude of topics that revolve around orthopaedic and rehabilitative treatment of children. Intervention can include: 
Prostheses
Orthoses
Physical Therapy
Occupational Therapy
Seating Modalities
Adaptive Equipment and DME
Motion Analysis
Outcomes Measures
Surgical Intervention
Mental and Behavioral Health
Surgical presentations require a review of appropriate imaging studies for proper planning and execution. All presenters are strongly encouraged to include not only clinical photos, but also x-rays, graphs and or charts in their presentations.
All abstracts must be submitted by the extended deadline of October 31, 2022.

If you have any questions, please contact the ACPOC office at acpoc@affinity-strategies.com
Sponsor the 2023 Annual Meeting
ACPOC is once again excited to offer sponsorship opportunities for our industry partners. Many event sponsorship levels are available, including exhibit space, event sponsorships, and other exciting opportunities.
Time slots for Technical Workshop Presentations fill up fast. Submit your sponsor form today!
During the exhibitors' technical workshops, commercial devices/products can be presented by the vendor without having to meet any of the normal scientific guidelines required of the scientific workshops. Here, commercial content will not be scrutinized. Essentially, this is a chance for you to present your techniques, manufacturing tools, devices, etc. to the audience and provide information on indications, fit, repair, solutions, etc.
Interested in learning more, or want to register for any of the sponsorships? Contact the ACPOC office today for more information!