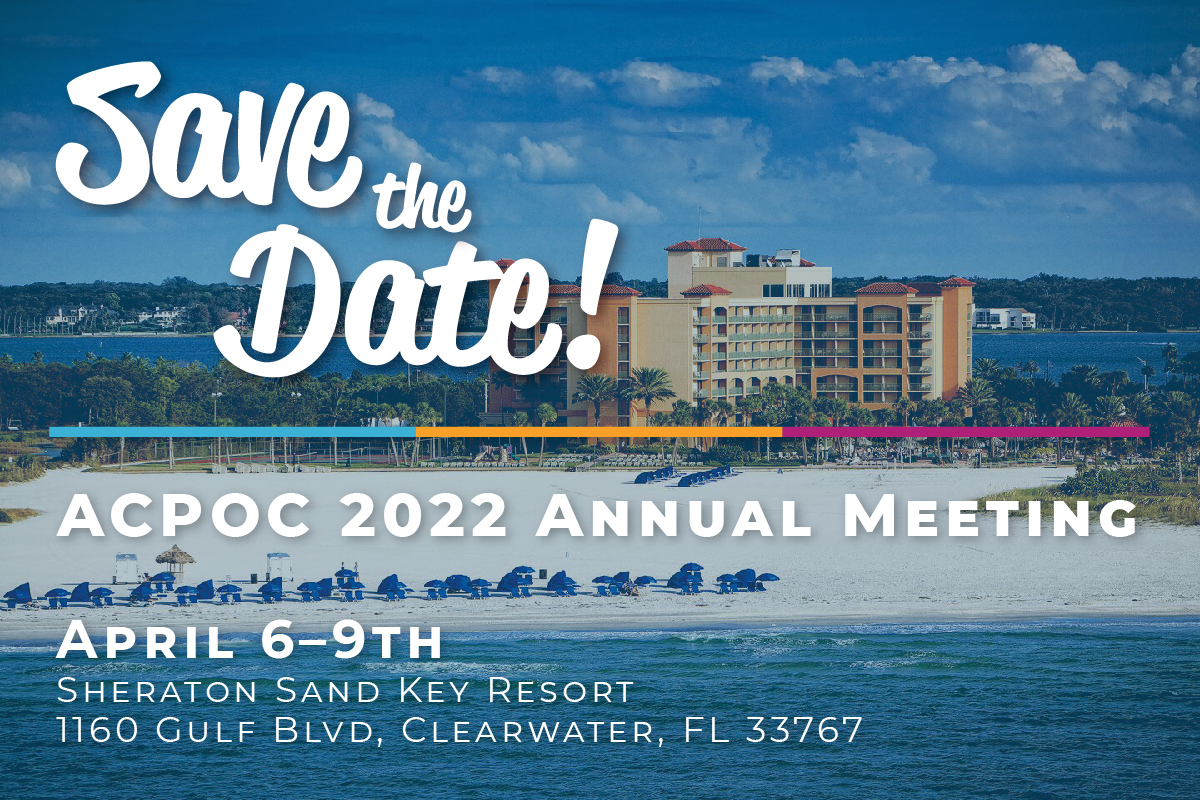 ACPOC is excited to announce that our 2022 Annual Meeting will be back in person! We look forward to seeing you all again in Clearwater, FL on April 6–9th, 2022 for 3 days of engaging educational sessions. Registration is now open! Save the dates and stay tuned for more details about our 2022 Annual Meeting!
Meeting Registration
ACPOC Members — $450
Non-Members — $750
Students — $150
Register by February 15th, 2022 and save $50 on Member and Non-Member registrations!
*ACPOC is continuing to monitor all COVID-19 developments as we plan to safely hold our 2022 meeting in person.
The Association of Children's Prosthetic-Orthotic Clinics (ACPOC) invites professionals interested in pediatric musculoskeletal disorders, neurological impairment, surgical and not surgical restoration, prosthetic and orthotic fittings, therapeutic treatment, and outcomes to begin planning for their participation in ACPOC's 2022 Annual Meeting.
We are interested in a multitude of topics that revolve around orthopaedic and rehabilitative treatment of children. Intervention can include: 
Prostheses
Orthoses
Physical Therapy
Occupational Therapy
Seating Modalities
Motion Analysis
Outcomes Measures
Surgical Intervention
Surgical presentations require a review of appropriate imaging studies for proper planning and execution. All presenters are strongly encouraged to include not only clinical photos, but also x-rays, graphs and or charts in their presentations. 
In order to satisfy CME requirements, a biography of 2-3 paragraphs, including credentials, is needed for each presenter. A CV may be substituted for this requirement. References must also be included for each abstract. Please attach to your abstract.
All abstracts must be submitted by the extended deadline of November 7, 2021.

If you have any questions, please contact the ACPOC office at acpoc@affinity-strategies.com